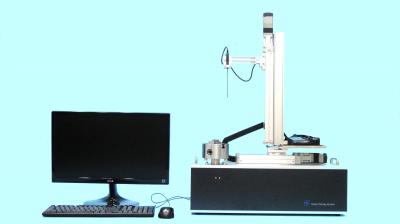 3D Gauss Tracing System Model-6000R
Features:
Fully-a

utomatic advanced magnetic measurement analysis system

.
Automated 2D/3D mode measurement. 

Automatic Judgement on the entire measurement results. demonstrated in PASS/ FAIL.

2D/3D Curve Chart.

Circle Curve Chart.

Analysis Table : Peak, Area, Angle, FWHM, FWHM Area.

Poles Bevel Angle measurement.

Multi-Curve Chart.

Reflecting high accuracy and reliability of the consistent measured result by repeated measurements at same position of the measured object.
Maximum resolution : 60,000 Points/3600.
The specific a

pplication of

 Hall-probe customization is available.
Intel i5 desktop computer with 21.5" LCD.